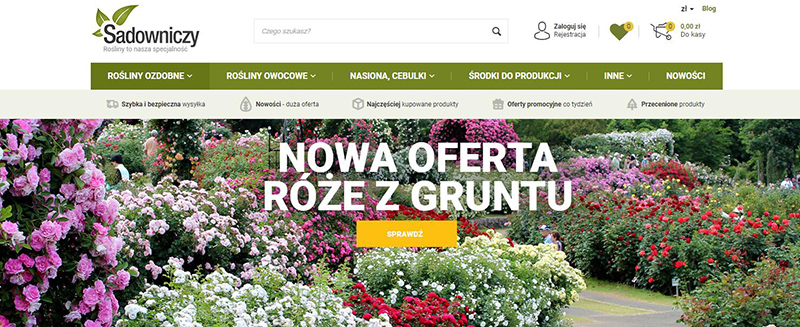 Sadowniczy to wyjątkowe miejsce, w którym królują sadzonki. Ich sklep ogrodniczy to głównie starannie wyselekcjonowane nasiona warzyw i sadzenie szerokiej gamy drzew owocowych! Co ważne, dostarczają również karłowate drzewka owocowe, które doskonale sprawdzają się w ograniczonych przestrzeniach, takich jak ogrody, tarasy, a nawet balkony!

Promocja produkty już od 12,59 zł

Kwiaty już od 1,89 zł

30% zniżki na Park Seed

Do 40% zniżki na przecenione produkty
Szeroka gama nasion i środków ochrony na Sadowniczy.pl:
Piękny ogród to z kolei nie tylko uprawy spożywcze, ale również kwiaty. Wychodząc naprzeciw wszystkim miłośnikom ogrodnictwa, udostępniamy w naszym sklepie wyjątkowe nasiona kwiatów, które przy odrobinie miłości rozkwitną gamą bogatych kolorów i aromatów. Sadowniczy.pl to sklep ogrodniczy online, w którym znajdziesz nie tylko nasiona i drzewka, ale także środki ochrony roślin, które skutecznie ochronią owoce naszej ciężkiej, acz przyjemnej pracy w sadzie, ogrodzie czy na działce. Pamiętaj, że wybierając produkty z naszego sklepu, możesz zawsze liczyć na naszą pomoc. Zajrzyj do naszych porad ogrodniczych lub skontaktuj się bezpośrednio, a my rozwiejemy Twoje wątpliwości i pomożemy zbudować uprawę marzeń!