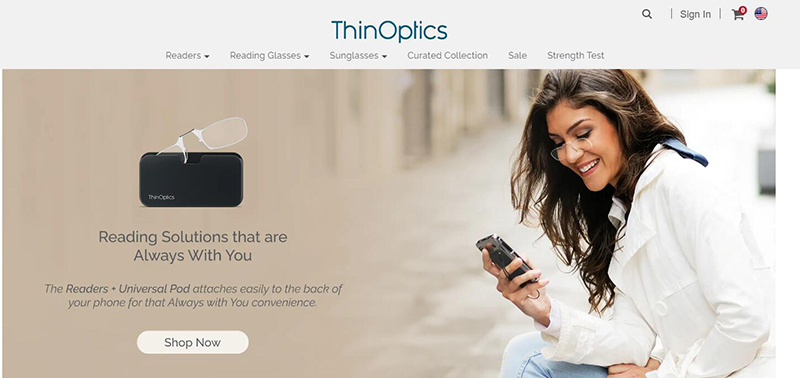 ThinOptics is an eyewear brand that has revolutionized the industry by creating a unique pair of reading glasses. ThinOptics's mission is to keep you from ever having to say: "Where are my glasses?" again!
Coupon Codes

40% off Clearance items

10% off any order with Email Sign Up

30% off Anti-Fog Readers

Universal Pods as low as $9.95
Shopping Tips
Are ThinOptics™ reading glasses comfortable?
ThinOptics reading glasses are extremely comfortable to wear because they weigh less than a nickel and they put only gentle pressure on the sides of the nose.
Are ThinOptics™ reading glasses durable? Will they break?
ThinOptics™ reading glasses are made from thermo-injection molded optical grade polycarbonate, which is shatter proof and frequently used in safety and ballistic (bullet proof) eyewear. The bridge is made from Nitinol, which is 10x more elastic than spring steel. The Nitinol bridge is encased in medical grade silicon tubing, and anchored in the injection molded polycarbonate frame. Still not convinced? Check out how we torture test ThinOptics in Sonoma, California in this video.