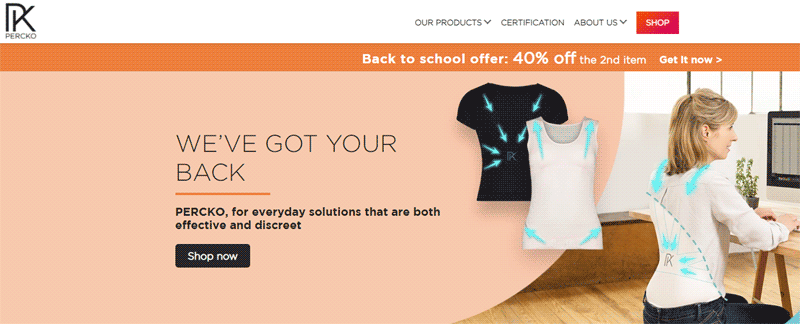 Access the best offers and discounts on the latest revolutionary back-saving technology by signing up to Percko's email newsletter. Just tap in your email address and be first to hear about exciting savings, upcoming sales and flash discounts. Whether you need a new protection vest or want to stock up on sports tees, protect your bank balance by registering first. For even more ways to save money, check out these Percko discount codes.

40% off Second Item at Percko

40% off Second T-Shirt on Lyne UP orders at Percko

40% off Second T-shirt on Lyne FIT orders at Percko

30-Day Money Back Guarantee at Percko
How to Save at Percko
Benefit from free delivery with every order. Simply fill your basket with whatever specialist spine-correcting essentials you need and head to the checkout. You won't be charged a penny extra to get your order delivered straight to your doorstep. Plus delivery is guaranteed within four working days.
Take advantage of a risk-free 30 day trial available on all products. Not happy? Get your money back in full – simple! Simply send your unwanted items within 30 days to enjoy a full refund, fuss-free.
Enjoy immense bulk buy discounts perfect for professional purchases. If you're in construction, removals, or any other physically demanding industry, head to the Percko for pro page to find out just how much you could save. Or email them directly and tell them who you are, how many professional backs you have to protect, and let them get back to you with the best deal tailored to you.